October 16, 2018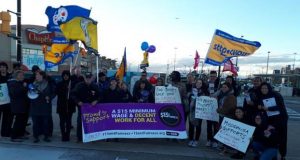 Yesterday morning, the first of more than 50 actions planned for the October 15 Day of Action kicked off. Throughout the province union members and social activists were mobilized to defend Ontario's new labour laws and minimum wage increase.
Protests and petitions were expended to try to convince the Ontario, Doug Ford Government to put our need for decent work ahead of corporate interests. IAM members participated in a number of the events.
If you were unable to take part you can still send an email to Premier Doug Ford and your local MPP. Also ask your friends to do the same!